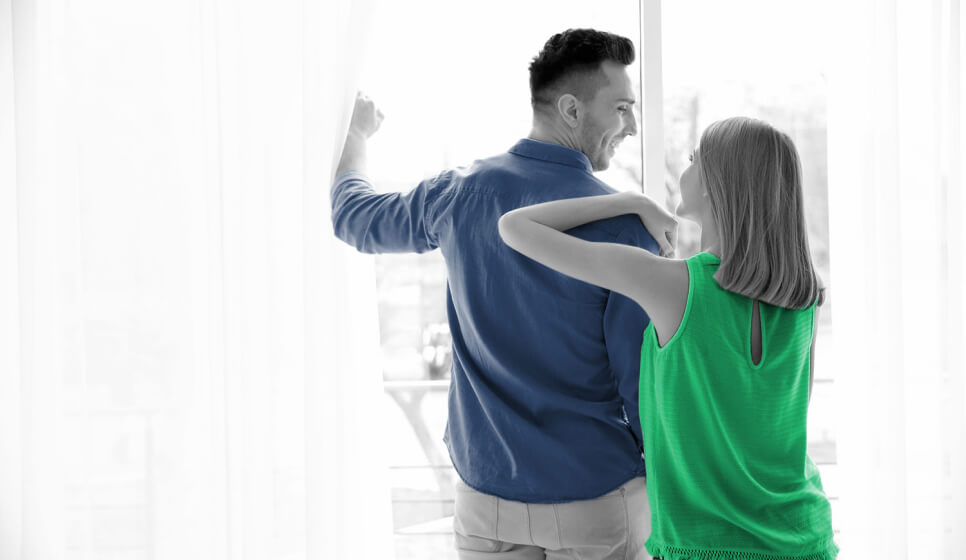 by Gary Andrews
Last update 1 May 2021
Overview
Windows are essential for multiple reasons, but they're one of the main culprits when it comes to energy waste.
In fact, 30% of a home's heating energy is lost through the windows.
In the summer months, the vast majority of sunlight that hits the windows enters the home as heat.
As you can see, windows are a massive energy-suck in both the winter and summer months.
We're bleeding energy through our windows, which translates to money out of our pockets.
Window dressings don't just look nice; they're actually one of the main ways we can limit our energy waste.
Ahead, we'll take a look at some popular window dressing options that can make houses more energy efficient.
COMPARE & SAVE
Your Window Habits
A lot of people tend to leave their window coverings in one position throughout the day.
They open their blinds or curtains in the morning, for instance, and leave them there until it's time to go to bed.
Being conscious about your window habit is a great way to save energy before we even get to window dressing options, ideas for sliding glass doors, and energy-efficient window treatments.
In winter, windows that get direct sunlight can be a great natural source of heat.
You should keep these open throughout the day to limit your seasonal heating costs -- which are often quite high.
In the summer, you should take the opposite approach.
Keep the windows that receive direct sunlight covered, so you don't add to the heat of your home.
For natural light, you can always open the coverings on the windows that don't receive direct sunlight.
Energy-Efficient Window Dressing Options
In this section, we'll take a look at how you can improve the energy efficiency of your home through stylish window dressings.
While some of these dressings might come with a bit of an investment, you can rest assured that you will save money on energy in the long run.
On top of that, you're adding to your home's value in the process.
Shades
Cellular shades, while a bit more expensive than traditional shades, are one of the best window dressing options you can select when it comes to energy efficiency.
These shades are insulated, and drastically limit energy waste in both the summer and the winter.
They have the added benefit of enhancing privacy as well, which is important to many homeowners.
These insulated shades block the sunlight in the hot summer months and reduce the amount of heat your house loses in the winter.
You can also find these shades in an automatic option, which allows you to set a timer for each day for optimal efficiency.
There are a couple of other shade options that improve energy efficiency as well, though not as well as insulated cellular shades.
Roller shades are cheap, but they don't insulate the house as well during the winter.
These shades are more effective at blocking out the sun, so they're best for those who live in warmer climates.
Drapes and Curtains
Drapes and curtains add an element of energy efficiency as well, but you have to make sure you're buying the right colour and fabric. White, plastic shades, for instance, excel at repelling the sun on hot summer days.
Drapes are one of the energy efficient ideas for sliding glass doors as well. You can cover your doors with drapes in the winter. As long as you seal them tight enough, heat will have a harder time escaping the glass doors.
Awnings
Energy-efficient window dressings aren't restricted to the interior of your home.
In fact, there are several ways the exterior window dressing options can help limit energy waste as well.
Awnings are one of these additions.
Awnings provide shade for your windows and reduce the sun's glare.
These additions provide a useful cooling effect in the winter, but you'll have to remember that they protect your windows from the sun during all seasons.
This fact means that awnings can actually do more harm than good when you're saving energy in the winter.
The don't allow sunlight to enter, which means a lack of natural heating.
The remedy to this is to install retractable or removable awnings that you can place in the summer and remove in the winter.
Talking to an Expert
While we can give you some general tips to make your windows more energy-efficient, it's a good idea to speak with a professional.
They'll be able to assess the specifics of your window insulation and give you advice for your best course of action.
Window dressings provide multiple functions. They improve privacy, increase energy efficiency, and look good doing it.
Talk to a professional designer about your energy-efficient window needs and they'll be able to tell you which window dressings are best for your home.
COMPARE & SAVE
This guide is opinion only and should not be taken as financial advice. Check with a financial professional before making any decisions.